Contemplative Creations

Original Artwork by Jack Alan Stewart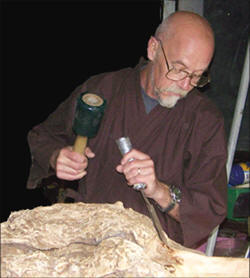 Jack Stewart has been practicing art since he was a young child. His experience ranges from watercolor to oil painting, print making to etching, pen, pencil and charcoal to pastels. Jack has worked with wax, clay, cement, plaster of paris, pewter, lead, copper, zinc, marble, granite, soapstone, papier mache and many different varieties of hard and soft woods. He has created two-dimensional works, reliefs and free standing pieces.

Jack's basic philosophy is that "All is Art". All that we do and all that is within nature is art. Art is a process where form transforms and reforms again and again. Jack feels it is a bit one-sided to call art a creative process. To create a drawing, one must destroy the clear space on which one is drawing. A large cube of marble is destroyed to bring out the figure within. Art is both creative and destructive; yet it is neither.

Jack holds a Bachelor of Fine Arts from Swain School of Design with a major in sculpting and complements it with a Masters of Art from Goddard College with a double major in sculpting and teaching. Jack has studio and classroom space at the Barnet Tradepost Wellness Center in Barnet, Vermont. Jack's artwork is offered for sale through his studio, at various gallery exhibits and arts festivals, and at the Artful Eye In St Johnsbury, VT.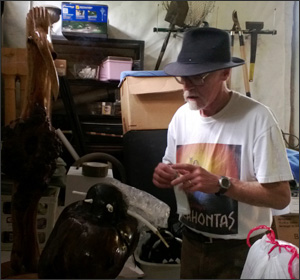 Jack likes to quote an Eastern teaching saying: "Tell me and I forget; show me and I understand; let me experience and I know.". It is the last part of the saying that is most important: the act of living, being and doing. In life, in art, it is important to practice over and over again so that what was at first most difficult and unnatural becomes a very wonderful and natural act.

In addition to creating his artwork, Jack offers fine arts instruction for children and adults. Instruction is tailored to the needs of the individual student. For more information or to schedule a class, please contact Jack Stewart.